I found my mid 2007 535d LCI is leaking oil from charge airline hose. I decided to fix this by replacing seal #2 and #3 which has been updated in the part catalogue in March 2009. I wanted to get this done 'properly' so decided to do it myself :-) I would like to give some input to the community which helps me a lot in this complex motoring world. Here comes my DIY to replace charge airline hose or just the seals to the red hose which connect turbo to the the intercooler. See #1 in this picture below:
BMW bi turbo engines (335d and 535d) often suffers from charge air line hose leak. If you car is under warranty please check it yourself and get it fixed under warranty; like me if you have ran out of warranty and stealership is asking you around £100 to tell you what you already know on the name of "diagnosis" then here is a DIY to follow which I did to replace charge air line seals. I replaced just the seals but if you are replacing red hose completely then the procedure more or less will remains the same.
First thing first, this is just a guide, it comes without any liability, support or warranty. I will *not* be responsible for any damage if occurs to you, your car or any third party involved or not involved in this process.
Lets start now:


You need something which can lift your car a bit so that you can work under the front section. Make sure it is safe and secure, do not risk *anything* here, nothing is worth compromising health and safety. You need a flat surface with very stable ground (no pebble or unpaved driveway). I used a ramp here on my paved driveway. Don't bother attempting this diy if you don't have any means of lifting your car up and simply head to a garage.
First of all please check if your engine is having leaky hose. To do this open the hood facing engine standing in front of the kidney grill. If you look down towards your left hand side besides the air filter in the narrow gap you will see a big pipe under a/c pipe, it has metal on top and red coloured rippled body. If you see that pipe covered with oil and oil around that area then you have this problem. If hose is badly damaged or split I have been told that the car will struggle to go above 50mph and fuel economy will drop too.
My car's (535d) leak noticed first time, sorry for the bad picture but it was difficult to take the picture in that narrow gap:
Car ramped up: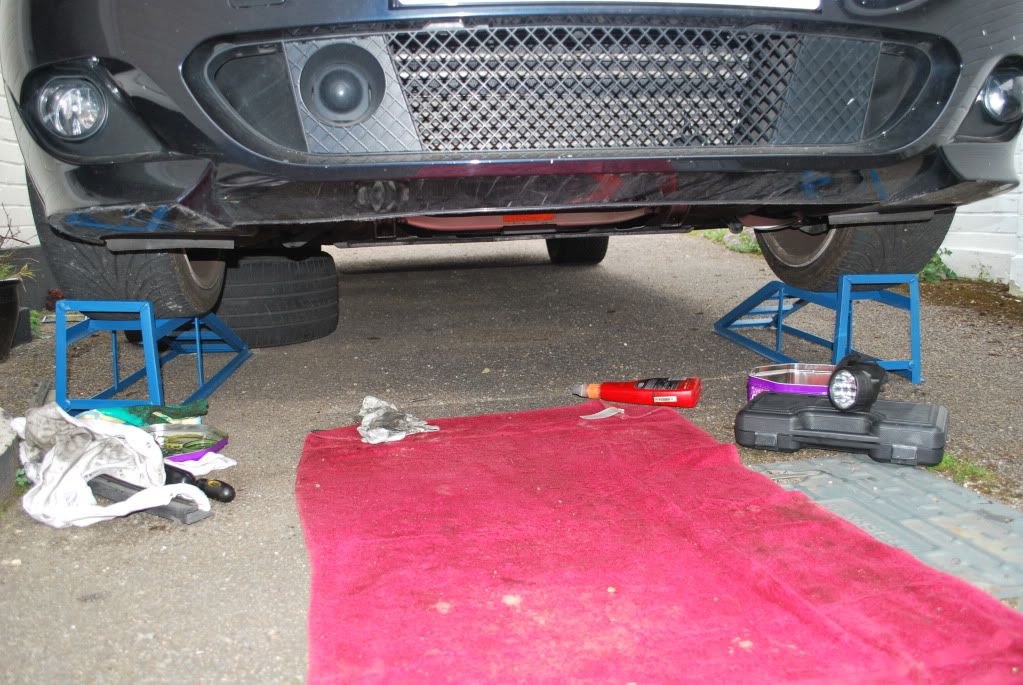 Make sure engine is turned off and cold. Keep in mind you are dealing with the leaky oil here so don't risk scalding your face by working on hot engine. Wait for 30 mins atleast after turning off the engine.
Get yourself under the engine (**think safety again and make sure vehicle is quite secure, did you check handbrake is on?**) and open under bonnet screen. This is held by a quick release screws which won't fall down if you unscrew them; very easy to do this part. You have to unscrew five screws on the front underside of the bumper too. I am not sure if these five screws must be removed but I did mine.
Once you open the engine you should be able to see the leak. Mine was looking this bad: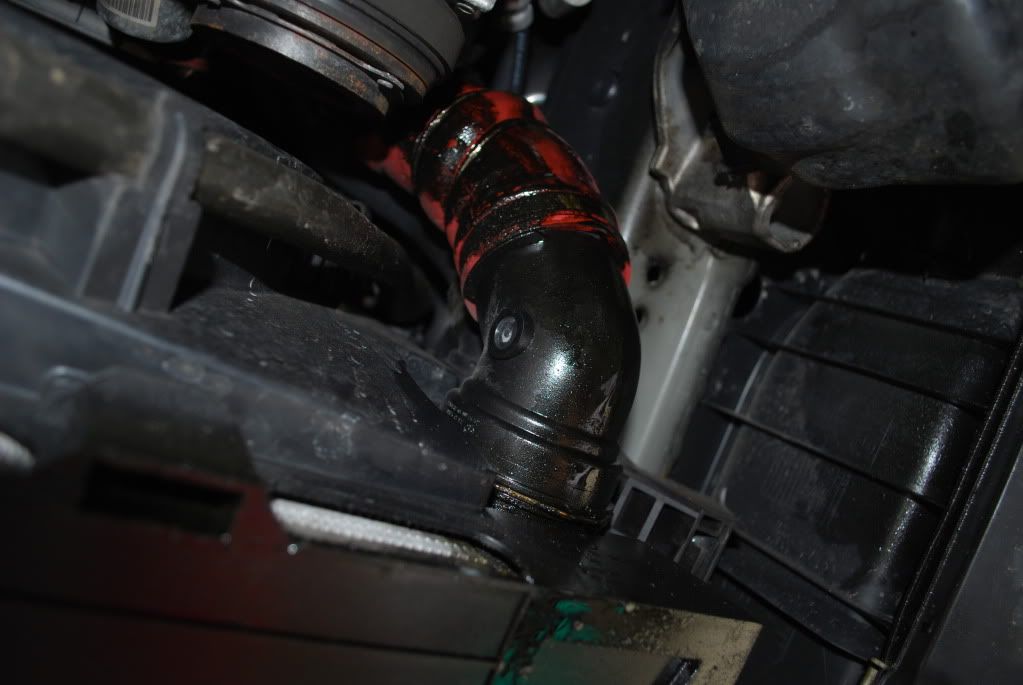 Underside of intercooler all wet including and under bonnet screen had 1mm thick mix of dirt and oil (black stuff) on it: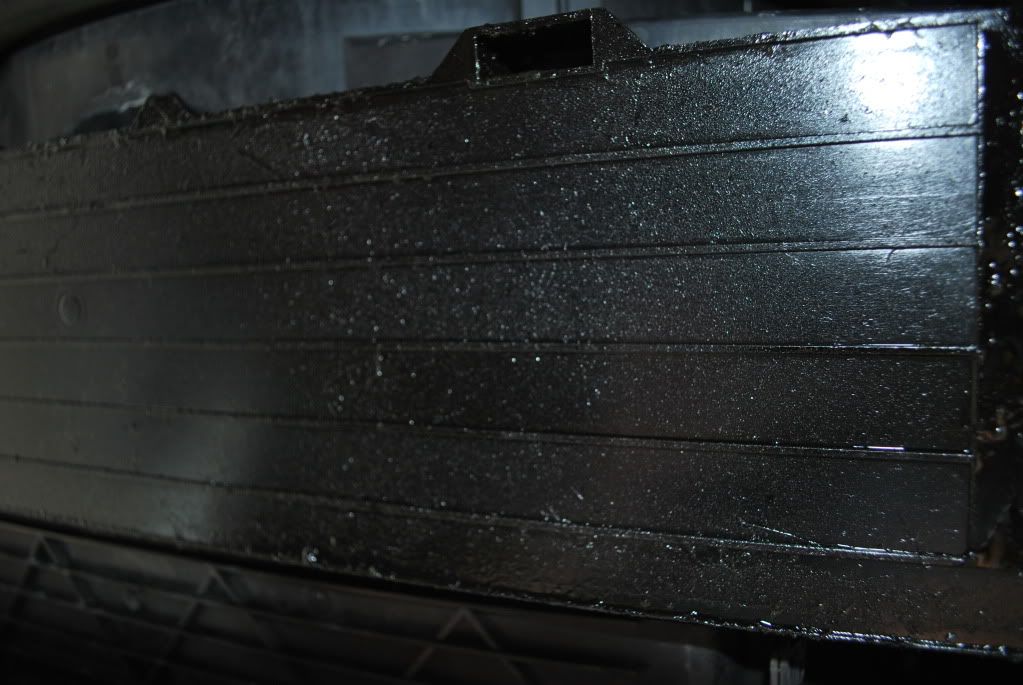 and intercooler return hose (much better then the red hose, its not leaking but oil ingested thru intercooler into return hose):
Now using a flathead screwdriver take the metal clip off the intercooler side of the red hose. Clip will come completely out, don't lose it, keep it aside. Slowly pull and slideout one end of hose outside of intercooler. Make sure leaking fluid doesn't get onto your face; it will drip, so don't keep your face just under the hose.
Now comes the hard bit, you have to get other end of the hose disconnected from turbo. It is held in place by 'similar' kind of metal clip you just removed from the intercooler but it it bit complicated due to many twists in the clip. Top end has a plastic tab which is holding up the clip, you have to push plastic tab upwards using both the thumbs. Plastic tab is held at three positions, centre, left and right. Apply pressure slowly to the left and right using both your thumb and gradually keep increasing it, don't push too hard or else you can snap it. Breaking it will mean a new pipe, if you are just changing seal take extra care here, with extreme caution slide that plastic tab up and it will come out completely in your hand. Once plastic tab is out keep it aside and now you can remove the metal clip holding top end in place. Removing this metal clip will require you to pry one section of the clip which is located on opposite side of the plastic tab you just removed. This section looks like clip goes in and then comes out, you have to slide it down and pull it outside to release. It was not possible for me to take picture of this procedure but I am including a drawing here which tries to explain what I mean. It took me longer then one hour to figure this out and luckily I didn't break the tab.
Above step is more difficult as it is hard to reach area and difficult to see properly, there isn't enough space left once you put you hands in there. Also your pipe is covered with oil and dirt (like mine)
If you have done it, rest of steps are easy.
Pipe taken out:
Examine the pipe for any obvious sign of failure like split, cut or hole. If you find it damaged you have to put a new pipe in. In my case it was all looking good so I cleaned it thoroughly and replaced both the seals (top and bottom part numbers are different, can't interchange) I used gunk to get rid of oil, dirt and grease like black stuff from all the places like red hose, intercooler, exposed turbo pipes, under bonnet screen, basically all the external components having oil on it. Wipe it all clean.
I am just replacing the seals if you are replacing full pipe you are skip this step.
Old seal: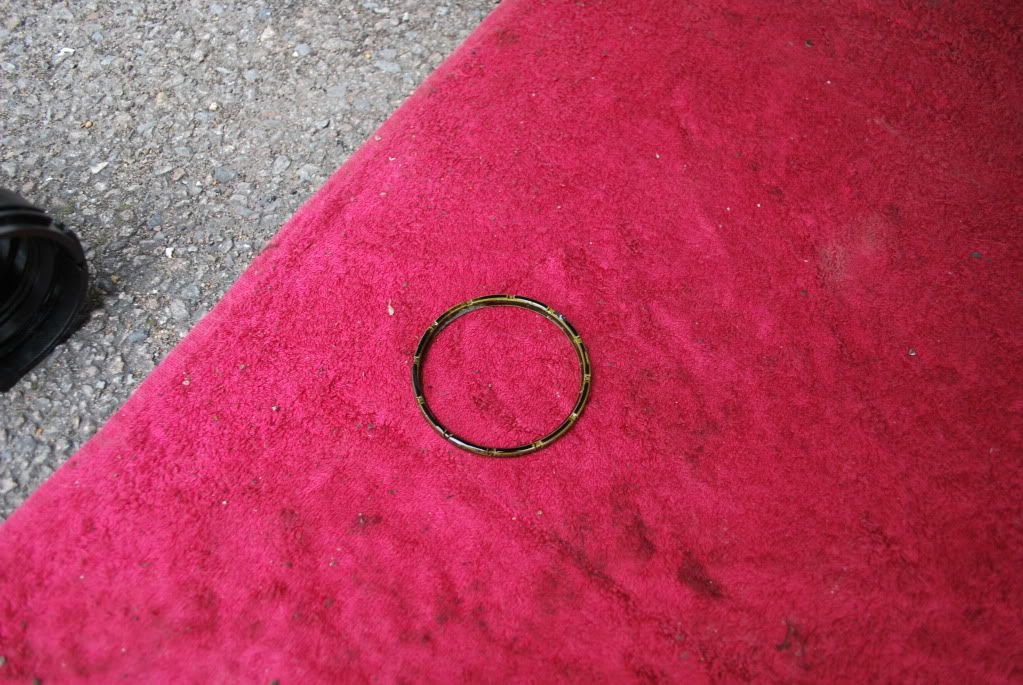 Removed from the hose:
Before cleaning all the oil spill I applied silicone sealant (oil, water and high temperature resistant) to the outer edge of the red hose to seal any possibility of leak between the hose connector and the red rubber. I let it dry for one hour while I clean all the oil spill, there were too many things to clean. Took long time. Cleaning is necessary here so that you can spot if this or any other oil leak comes back again.
Clean these: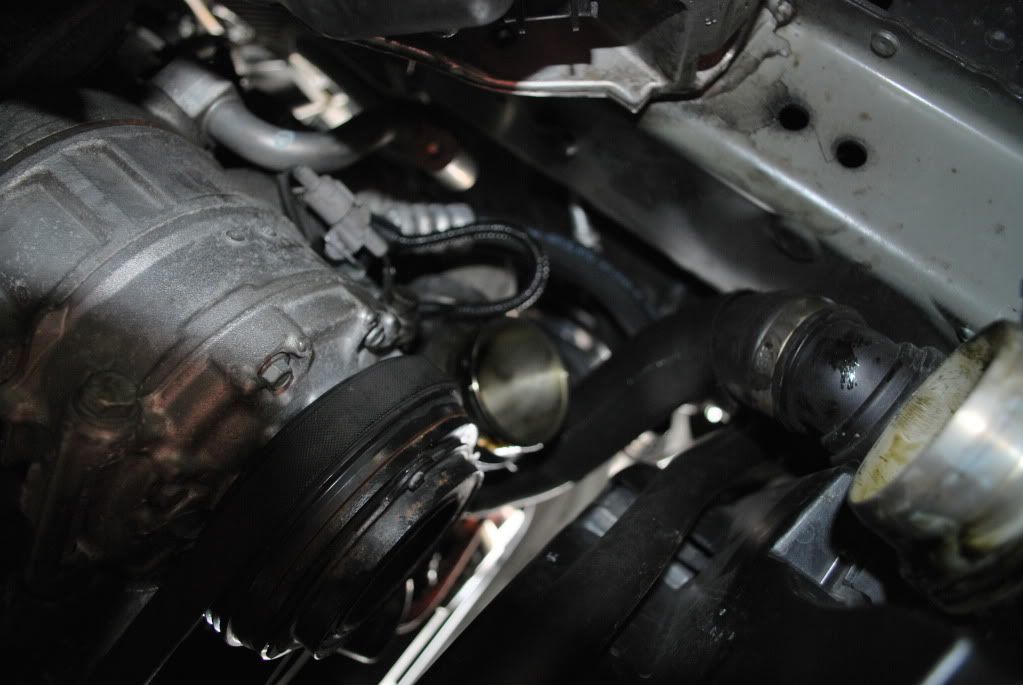 Sealant applied: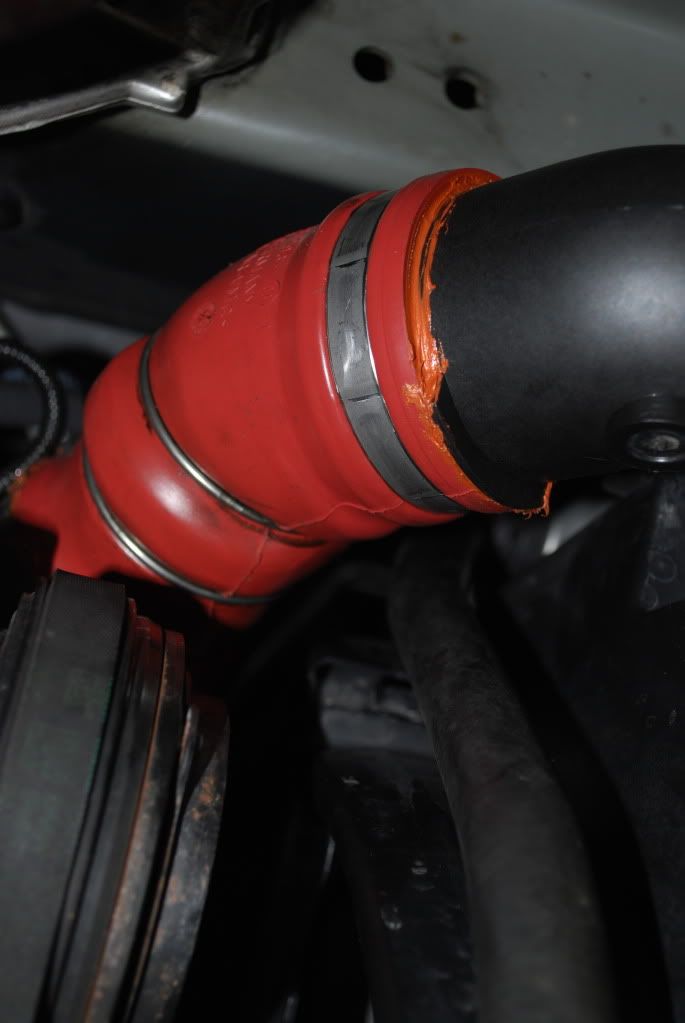 Put the new seal in place; this is fairly simple, take the existing rubber sealing off, clean the area well and put the new one and make sure it is all seated well and all even. So simple to put new seals it is not worth taking a picture here. However I do regret missing opportunity to take picture of the hose with the old and the new seals and compare and see the difference. Sorry.
Once seals in place its time to put the hose back in; First the difficult bit. Put the metal clip (not plastic tab) on the top metallic end and make sure its not engaged, just resting on top metallic end of the pipe, very close to where it will engage. Now push the top end of the hose into the turbo pipe and slide the metal clip to engage while keeping hose pushed up. This will take a while but not as difficult as removing it. Once metal clip clicks in place you can place the plastic tab from top and using both thumb slide it down, opposite of what we did while opening it. It will engage in place holding the metal clip. Now rotate the hose and align it to the intercooler hose, once aligned push and slide the aligned end of hose to the intercooler connection. Put and slide the metal clip until fully secured. Confirm the pipe is seated well by pushing and pulling (not too hard) and if it looks all in place then thats it we are almost done.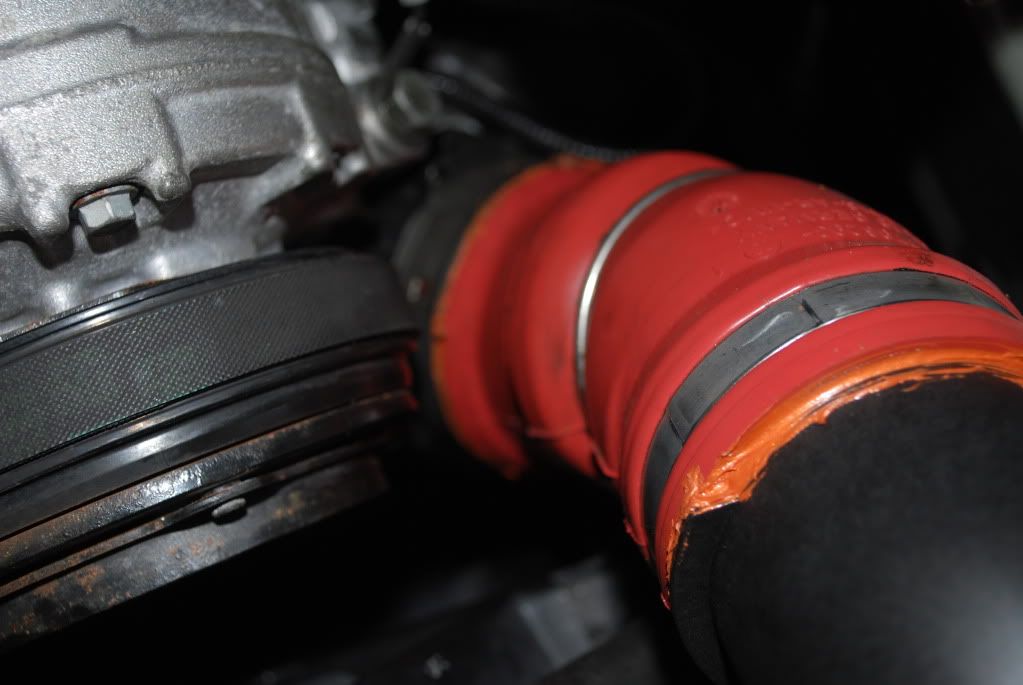 Now put the under cover back on (too simple to explain, just do opposite of what we did in opening it) and you are all done. As the oil leak is all cleaned now any future fresh oil leak will show up, so you might want to check it frequently for a few weeks and if oil leak returns and you have just changed seals, you have to change the whole pipe now. I don't see any reason to do it in my case as in March 09 seals were updated and I remember reading at many forums that seals are known issue to the BMW and there are puma cases for this. All the puma cases refer to seals only, part number for the hose hasn't changed so I believe there are design flaws with the old seal. Also I see old seal and the new bit different, anyway if oil leak returns I would simply replace the hose. DIY procedure for hose replacement will be the same except the cleaning and new seals step.
Hope this helps someone struggling with stealership's approx. £100 for "diagnosis" and £160+vat / hour for labour for something which should have been a recall. I hope this DIY saves you money, time and fuss dealing and arguing with stealership, not to mention you have not have access to your car while it is with the dealership and this diy took my untrained hands with limited equipment a few hours of a lazy saturday. Next time I can do it in less then 1 hour I hope.
I would give million thanks to "Sporty1" for all his valuable input. Mate please feel free to suggest a change in this DIY instruction or let me know if you find anything which isn't right or clear enough.
~Afsar


Edited by afsar